January 3, 2019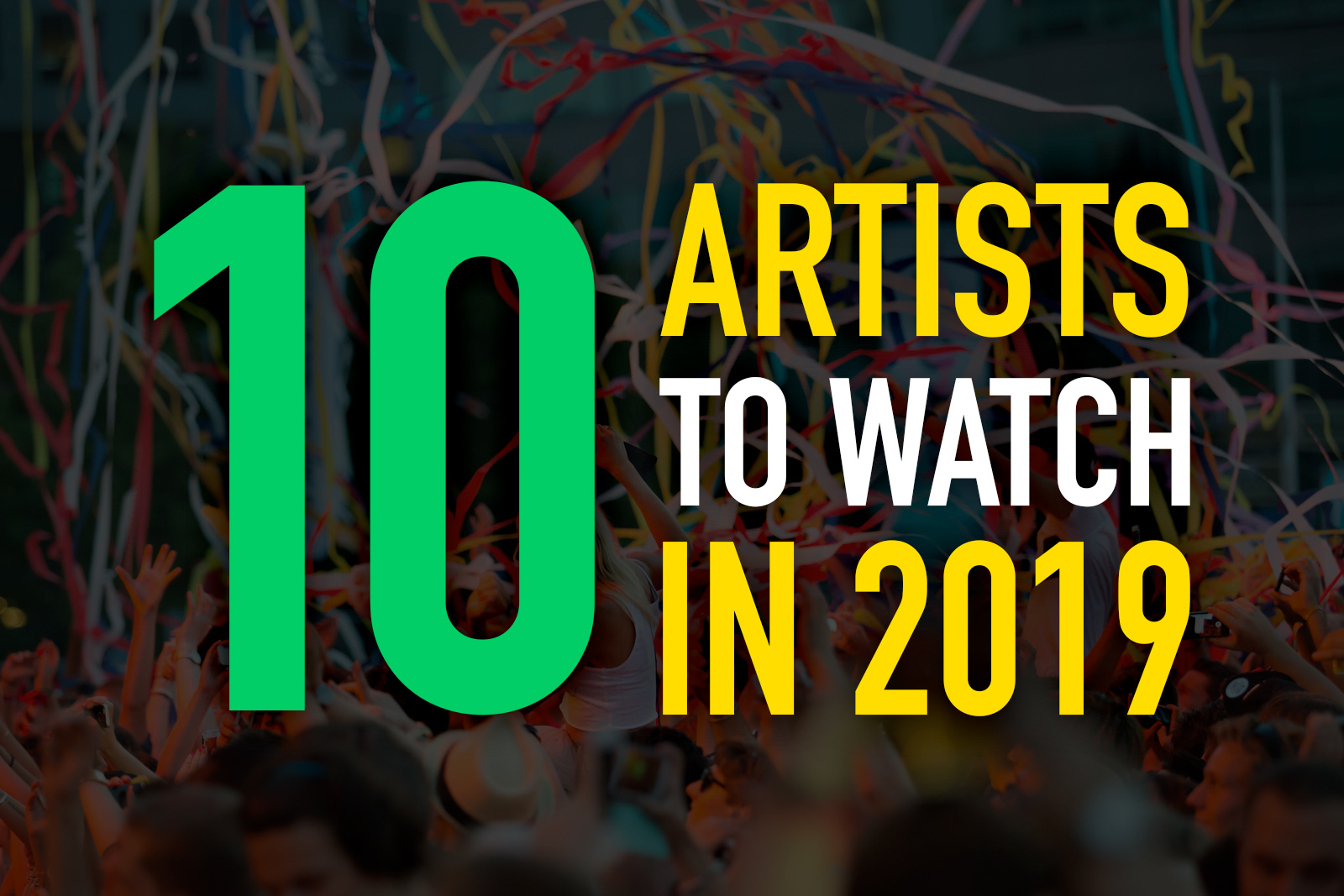 10 Artists To Watch In 2019
As we enter another year, the electronic dance music scene continues to grow.
With thousands of artists pushing the envelope of music creativity, we have chosen 10 artists that have caught our attention in 2018 and who we predict to stand out in 2019.
While there may be some familiar faces; there's no doubting 2019 will be another big year for dance music. Below is OZ EDM's top 10 acts to keep an eye on this year!
Flume
Australia's most renowned beat maker Flume got his first taste for producing at age 13 from the most unlikely of places – a music production program he found in a cereal box.
Since then, he's amassed a cult worldwide following, won a ton of awards, played the biggest and best festivals and releases nothing but top notch electronica.
After a silent 2018 and the critical acclaim of his sophomore LP, Skin, Flume closed out the year taking to social media to let fans know new music is on its way in 2019.
Seven Lions
Seven Lions is one of the rare acts that can combine elements of trance and dubstep into a hybrid sound that's sweeping across the globe and fast becoming a crowd favourite at some of the biggest and renowned festivals and venues.
Since his 2015 EP, Jeff Montalvo aka Seven Lions has shown time after time how to embrace the dance floor and move beyond it. His signature sound has since evolved and grown with the producer to hit numerous chart toppers on the beatport charts.
Seven Lions has had a stellar 2018 and has revealed to fans that some highly anticipated collaborations are on the way for 2019. Whether you're a fan of trance or bass music (or both!) Seven Lions is an act you need to keep watch for in 2019.
The Midnight
The Midnight is a Synthwave duo, formed in Los Angeles in 2012. Comprised of Danish producer, songwriter and singer, Tim McEwan & American singer- songwriter, Tyler Lyle. Raised in a family of entertainment business contributors, Tim McEwan (Sep 16, 1979) hails from Copenhagen. Exposed to music an theatre from a young age, McEwan attended Los Angeles Recording School in his late teenage years, 98- 99. Tim McEwan has served as a producer and songwriter for several national and international acts, mainly within British pop, R&B and Electro.Tyler Lyle (Dec 1, 1985) originates from Carrollton, Georgia. He has been working professionally as a singer-songwriter since age twenty-one, primarily within the style of Indie-folk. For more than ten years he has been releasing music under his own name, as well as his 2016 founded project – The Secret Lair.Tim & Tyler met at a random co-writing session in Los Angeles. Combining Tim's 80s aesthetics with Tyler's singer-songwriting skills, they soon found a joint studio chemistry.
'WeMoveForward' and the chorus for 'Gloria' were written that day. Subsequently the two musicians founded The Midnight, releasing their debut EP 'Days of Thunder' in 2014. Electing to forge their own path in the ever-evolving landscape of modern music, the bicoastal duo have self-released the majority of their catalogue, up until now. Their music pays homage to the dreamy and uplifting, yet subversively melancholic 80s film and television scores of their youth. A new album is expected to drop mid 2019 followed by an extensive tour, keep an eye out for more information in the future.
Jeffrey Sutorius
Former Dash Berlin frontman Jeffrey Sutorius announced his return to music after separating from the popular trance group. Since October 2018, Jeff has been making music and performing under his own name.
Jeffrey Sutorius is an invigorating, award-winning DJ who as the remarkable skills to take his crowd on an energetic journey that has all the feels. Jeffrey was the DJ and frontman for Dash Berlin. He is highly aware that his success comes hand in hand with the love of his fans who have always supported him and remained loyal throughout his career. This heartwarming and lasting support is one of the key drivers of his journey. The DJ has a preference for emotional, energizing quality dance music and loves to bring that across on stage.
2019 will see new music which is soon to be released; keep an eye on what's to come.
Sippy
Sippy is a Sydney based bass music machine – anyone who's spent time on the Australian bass music circuit knows the name. She's built her career blasting her signature gut-rattling seizure-inducing sounds through the sound systems of her country's famous clubs and festivals, including residencies at Chinese Laundry and The World Bar, and a graduate of the famous ICON Collective Music Production school in Los Angeles. Sippy prides herself on bringing much needed courage and realism to the scene. As a result, her name is synonymous with a fearlessly filthy, heavy, extremely creative and precise bass-forward sound. She counts the world's biggest Bass and EDM producers among her most avid and vocal supporters including Zeds Dead, Bear Grillz, ShockOne, plus more.
With an official remix for the Chainsmokers under her belt, her first original single released on Deadbeats (on the We Are Deadbeats Compilation Volume 3), partnerships with Nike and Roli, and more projects on the way including her forthcoming EP, one can only describe Sippy's rise as meteoritic with no signs of slowing down. 2019 we can only expect to see big waves being made from this young producer, a new force to be reckoned with in the bass music scene.
Krewella
Krewella is an EDM duo formed by half-Pakistani sisters Jahan Yousaf and Yasmine Yousaf in Chicago, US in 2007.
Fans of Krewella know that the group cannot be categorised under one specific genre as they continue to dabble amongst house, dubstep, and electronic dance.
Since the groups inception, Krewella have become EDM superstars, claiming festival slots at the Ultra Music Festival, Electronic Daisy Carnival, Australia's Stereosonic, Tomorrowland, Electric Zoo, Meltdown and Paradiso.
While 2018 was a quiet year for the group, the sisters have been busy in the studio working on their highly anticipated album NW2 which is confirmed to come out in the first half of 2019 and have 11-15 total songs.
Spencer Brown
Based in San Francisco, 24-year-old visionary Spencer Brown creates forward-thinking dance music that defies quick-shifting industry trends, carving his fresh take on the progressive space by creating earworms that incorporate authenticity with accessibility.
After Above & Beyond discovered Spencer through his graceful 2014 debut release "Chalice EP" on Avicii's LE7ELS (garnering over 1.5 million listens), a string of successful EPs on their legendary Anjunabeats label led to his chart-topping iTunes #1 2018 debut album "Illusion of Perfection". Spencer's darker follow-up, "Windows 95 on Acid EP," was released on deadmau5's mau5trap label and caught the eye of countless techno tastemakers.
Spencer has recently received diverse DJ & radio support from Avicii, Above & Beyond, Armin van Buuren, Sasha, Pete Tong, Don Diablo, Hardwell, Danny Howard, Adriatique, Paco Osuna, Dubfire, John Digweed, Getter, Seven Lions, Gareth Emery, and more.
Spencer's relentless work ethic and production prolificacy, crystal clear vision, extensive A-List DJ support, and forward thinking compositions forecast a breakthrough as he continues to deliver ambitious performances that can stand the test of time.
Dosem
Explore the deeper side of techno with Dosem. Since busting onto the scene almost 10 years ago, the music has seen him clock up countless air miles, release a string of hit club tracks and earn accolades from many of his peers, who deem him to be one of the most influential underground Spanish DJs in the scene today.
With releases on Anjunadeep, Housestrike, Toolroom and more, Dosem rounded out 2018 with a number of chart toppers and a strong worldwide following that continues to grow. With the Spanish producer showing now signs of slowing, keep a close eye on what he has in store next. Expect a big year for the Spaniard.
Paul Denton
Paul Denton is a hot new trance talent from Ireland who's getting a lot of attention lately from the big hitters in the trance scene. His iDentify radio show has gotten him fans worldwide, where he debuts regular original tracks and reworks that are totally exclusive to his sets. Tracks such as 'Say My Name' with Audrey Gallagher and 'Second Chapter' under his Flynn & Denton duo project have stood out clearly over 24 months and highlighted Paul's ear for a good record.Tipped by Aly & Fila, John O'Callaghan, Askew amongst others. Signed to Subculture, Kearnage, FSOE, Outburst Mental Asylum & more, Paul Denton is a name to watch closely in 2019.
Skrillex
Among the biggest DJs in the world, Skrillex is a name most households would have heard.
While 2018 was a particularly quiet year for Sonny Moore (Skrillex), his work ethic has shown no signs of slowing. He played a couple of festivals, including Australia's Listen Out and has released a ton of new IDs. We had good word from industry sources that a Skrillex album was being finished in 2018, but clearly that wasn't the case.
Now that Skrillex has been more actively playing shows, and, in doing so, sharing a bunch of new IDs in the process, a 2019 album seems all the more likely.
Whether these tracks eventuate to an album, an EP or are released as singles; we don't mind as the world needs more Skrillex material.