After announcing itself earlier this year with a mission statement to entice, CODE is ready to up the ante and deliver something unforgettable for your Australia Day Weekend. With roots firmly planted in the UK and Ibiza, Sankey's has become the undisputed leader of underground clubbing. Dominating the UK scene since 1994, the brand only recently made it's Ibiza debut and immediately earned itself a "hottest new spot on the Ibiza island" label by DJ Mag UK. Sankeys is now embarking on a global world tour visiting every major city, and, as part of the Asian tour, will touch down in Sydney for one show only. The Sankey selectors for this event will will be Sankey's Tribal Sessions resident, Darius Syrossian, in a well overdue debut Australian performance, alongside Sankey's regular and UK legend, Yousef, and ex-Sankeys Manchester resident, Dillan Joseph.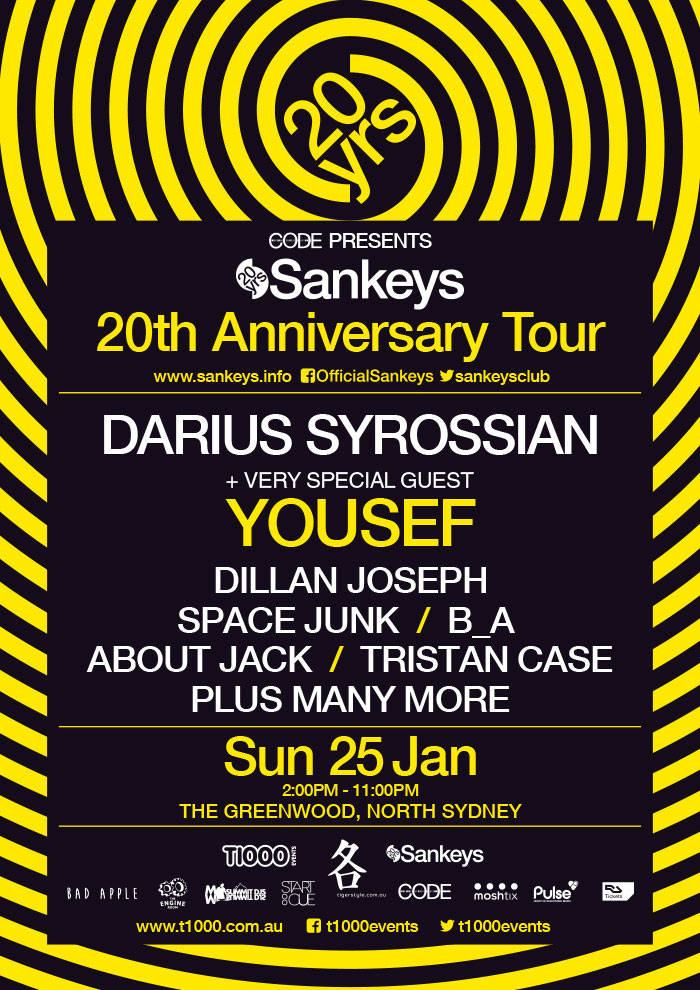 Darius Syrossian (UK)
Darius Syrossian's work as a DJ/promoter behind Sankey's Tribal Sessions saw him receive a DJ Mag nomination for best UK house night. As a DJ he has collected accolades across Ibiza for his storming sets (even securing a spot in the Top 10 for one of his 2013 Ibiza sets at Steve Lawler's Viva Warriors night). A former DJ Mag award winner for best new producer, Syrossian has delivered tracks for the most revered labels on the scene, from Viva Music, to Jamie Jones' Hot Creations, Get Physical, to name but a few. His music is awash with notes from the house underground – there is no doubt this is one of the most in-demand acts on the global underground scene right now.
ousef (UK)
CODE is also pleased to announce that Sankey's regular and UK legend Yousef will be part of this debut. A resident at Carl Cox's Space Ibiza night, Circus Recordings label boss, Essential Mix inductee, and writing tracks for labels like Saved and Cocoon – there isn't much that this scene mainstay hasn't achieved in his career. In his own right, and with over a decade's experience preaching quality house and techno to dance floors across the globe, this is a DJ that delivers – and that's the caliber of artist we pride ourselves on delivering at CODE.
Dillan Joseph (UK)
After moving to Australia last year, Dillan Joseph will be returning to the decks for Sankeys. Best known for his residency over the last five years at their Manchester venue, Dillan has been tearing it up in the infamous Sankey's main room basement alongside the house music royalty playing week in week out. Dillan also hosted his own monthly night upstairs at in Sankey's SPEKTRUM Room which showcased Manchester's finest talent.
SANKEYS 20TH ANNIVERSARY
DARIUS SYROSSIAN
YOUSEF
DILLAN JOSEPH
SPACE JUNK
B_A / ABOUTJACK
TRISTAN CASE
ROOMS HOSTED BY:
BAD APPLE & FRIENDS / START: CUE / SUMMIT DJS / THE ENGINE ROOM
AUSTRALIA DAY WEEKEND – SUNDAY JANUARY 25
THE GREENWOOD (1pm – 10pm)
TICKET INFO
FIRST RELEASE: $45 + B.F.
SECOND RELEASE: $55 + B.F.
FINAL RELEASE: $65
JOINT TICKETS: $65 (includes afterparty)
VIP: $75 (includes private area and bar beside main stage)
MORE ON THE DOOR
Tix available from here.
Facebook events page here.
THE GREENWOOD DRESS CODE FOR ENTRY:
Come to party! If in doubt, we recommend you make a little more effort. The dress code isn't strict but there are limits. No sportswear. No thongs. Don't miss out on a great day because you look too casual. The Greenwood Hotel and T1000 Events has a zero tolerance towards illicit drugs.