May 5, 2018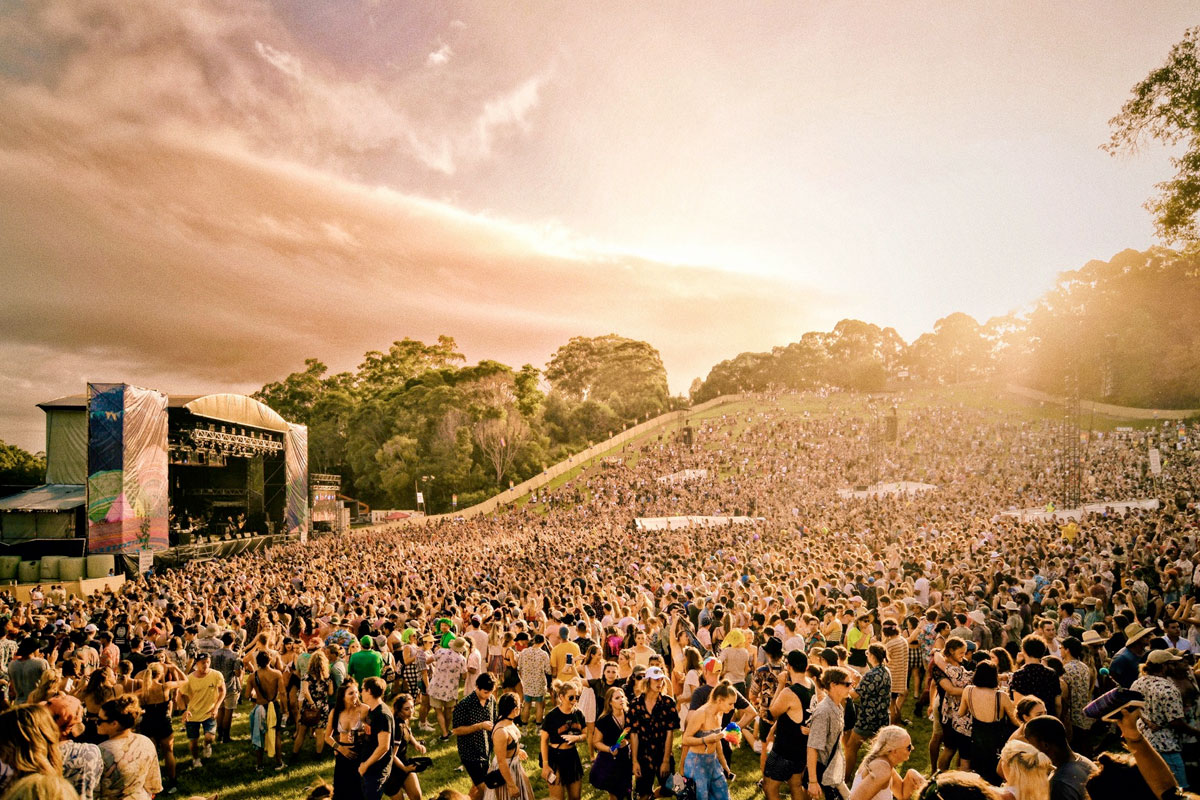 10 Acts You Can't Miss At Splendour In The Grass 2018
Ever since the first festival in 2001, the biggest names in music have juggled their schedules to play at the annual Splendour In The Grass festival. In its 18 year history, Splendour has become one of the most important festivals on the calendar, and it will continue to push boundaries like never before in 2018. Before fans can soak up the variety of music and activities, some choices need to be made.
Whether you're watching live from the festival or via the live stream, you'll need to decide which artists deserve your attention most – and that's where we come in. So fill up your water bottles, slap on some sunscreen as we round up the 10 performances OZ EDM readers will not want to miss at the 2018 edition of Splendour In The Grass.
TAYA
When: Sunday
Closing out the festival for 2018 is none other than TAYA. TAYA has truly weaponized groove, formulating deep, darkened tech-house blended with progressive jaunts. Cultivating his unique sound with the Bassic Records family, TAYA's debut EP "Perception", remixed by Matan Caspi and Thankyou City, earnt huge support and 5 star ratings from Beckers, Jamie Stevens, Cid Inc and tastemakers including Decoded Magazine and Progressive House Worldwide. His imminent EP on Bassic "Valhalla" is set to further his journey into progressive with more international remix zest.
2017 saw TAYA's skill and determination win Beatport's first Beat's In School Producer Scholarship with Yousef's Circus Recordings. Consequently, TAYA is the newest member of Circus Recordings alongside a hefty list of the world's most prominent names: Carl Cox, Green Velvet, Jamie Jones, Sasha, Hot Since 82, Joris Voorn, Yousef himself and many more.
Birthed in the doof scene in the surrounding hills of Byron Bay, Taya was brought up into a life rich with musical influence, experimenting with live music from the tender age of 9, approaching DJing at 13 and immersing himself into the world of production at 15. Playing a big part in the NSW north coast psytrance scene as a teenager, Taya made the move to house and techno at his coming of age. From Europe to USA to Indonesia and time spent calling Berlin and Bali home has exposed him to musing that has lead the way to growth into the modern TAYA sound.
---
Touch Sensitive
When: Friday
Touch Sensitive is the ultimate triple-threat; as a producer, in-demand live performer and DJ, he's a treasured slashie for artists and audiences alike. Whether it's remixing Rufus, collaborating with Flume or touring internationally with Flight Facilities, he's become renowned as the man with an ear for hooks and impeccable taste.
Touch Sensitive is affectionately considered Future Classic's spirit animal. His affiliation with the label runs deep; 'Body Stop' was one of Future Classic's first releases and he has played on hits for a sizeable contingent his labelmates, including Hayden James, Flight
There's no doubt you've heard his cult mega hit, 2013's 'Pizza Guy'. He then treated fans to 'Lay Down' in 2017, a supreme slice of Slow Motion House, armed with a swaggering bassline, syncopated synthesizers and hands that pretty much clap themselves, 'Lay Down' is the entree to Touch Sensitive's debut album, out on Future Classic.
---
Human Movement
When: Friday
Human Movement's critically acclaimed, self-released debut EP 'Dancing Room' broke into the market with a bang – welcoming a national Australian tour and massive festival stops at Groovin The Moo, Splendour In The Grass, Strawberry Fields and Lost Paradise. Followed by their 'Subcity', 'Right Thang', and 'I Need' EP's.
In 2017, the duo hosted three absolute heaving sold out Human Movement Parties, and celebrated their debut live performance at Sydney's The Metro Theatre. Continuing strong with direct support for Deadmau5, a mix features by Resident Advisor's "Mix of the Day," and Lost Paradise Festival.
In 2018, Human Movement make their debut on Defected with a smart dual single, demonstrating buckets of natural talent that has so far caught the attention of the likes of Joris Voorn and Richie Hawtin. To continue the celebration, Human Movement will embark on a European summer tour performing in Ibiza, Defected Festival in Croatia, France and more.
---
LO'99
When: Friday
Tapped by some of the world's most sought-after labels and spun by dance music's top tastemakers, make no mistake… LO'99 is doing Australia proud!
This Sydney producer makes tracks that blur the lines between house and breaks; his production usually always packing a heady bassline and often contains a little tech house or garage influence. Dance music's elite are getting behind his vision with LO having secured releases on cult labels like Night Bass, Bunny Tiger, Confession and This Ain't Bristol. To boot, he's been called upon to remix some of the greats like Röyksopp, Kaskade, Moby, Peking Duk, AlunaGeorge, Fatboy Slim & more.
In no time LO'99 has clocked up four Beatport #1s & had his tunes spun on Triple J, BBC Radio 1,1xtra and many other networks around the world, his debut single Take Me Back hit #5 on the UK club charts, while his 2016 runaway hit 'Make Me Feel', the following single 'Fallen' and his last single feat. Elizabeth Rose 'From The Start' all became #1 club records on the Australian ARIA charts, all released through his very own imprint Medium Rare Recordings. Expect a big crowd for LO'99 at Splendour In The Grass 2018.
---
Anna Lunoe
When: Saturday
In the beginning of Australia's dance music boom, Anna Lunoe became known as one of the best emerging DJs in the scene. Her track selections and charismatic presence translated to airwaves, festival stages, and pop charts, leading to her becoming the first female to head Ministry of Sound's Clubbers Guide series. After moving to LA, Lunoe quickly established herself with her debut "Real Talk" collaboration, which maintained a No. 1 spot on Beatport's Indie Dance chart for four months straight.
Anna also continuously dominates the live circuit, appearing at numerous festivals including EDC Las Vegas, where she was the first solo female act to play the main stage.
After nearly a decade's worth of touring and production, Lunoe was approached to help launch Apple Music's Beats1 platform. She debuted the HYPERHOUSE brand, her widest-reaching outlet for showcasing rising and established talent to date. Nearly three years later, Lunoe continues to thrive as Beats1's dance music expert.
Entering 2018 following a touring hiatus, Anna is creating an exciting new sound. Continually breaking boundaries, Lunoe is not one to miss!
---
Godlands
When: Saturday
Turning heads quickly, Godlands is the product of old school sounds meeting new school methods. A forerunner of the new wave of Australian electronic music, this young upstart has the enviable ability to transform beats into heaving club anthems, with a festival-ready steeze that'll test even the best systems.
Existing at the junction of music and fashion, Godlands is your girl's crush, whose constant ambition to push the needle sees her effortlessly apply a cavalier vogue to her production, performance and aesthetic.
Less than a year into the Godlands project has seen her tear up the scene, supporting heavyweights including Baauer and JAUZ, touring with Touch Bass, and booking in-demand slots at Party in the Paddock and Groovin the Moo festivals.
Get used to this future legend, because the Godlands era has only just begun.
Made In Paris
When: Sunday
With a mind for the melodic drive of deeper techno moods, and noted by industry tastemakers as one of country's top underground DJ and producers, Made in Paris remains in a league of her own.
The Sydney based artist and label curator depicts the blood of her work across the globe in her deep and dark production journey. The Made in Paris project has entrapped enthusiasts from Maceo Plex and Animal Trainer to Joseph Capriati's techno allure, attaining Mixmag features all while holding acclaim as Triple J's most recent Mix Up Resident.
Her recent 'Erratic' EP on her label Upon Access, welcomed in 2018 with support from Music Is 4 Lovers, Data Transmission and more, following on from her previous releases 'You're Wrong' and 'Mass Movement' on Berlin label Salomo Records. 'You're Wrong' took her signature to another level with love from BBC Radio & Ibiza Sonica while 'Dancing In The Dark' on Motorik (just prior) gained attention from artists Nicole Moudaber & Danny Tenaglia. 'The Vault' via Motorik also, tallied high-end push from Sven Vath & Maceo Plex at Timewarp Germany 2017.
---
Girl Talk
When: Sunday
Master of mashups, producer Girl Talk (aka Gregg Gillis) is back in Australia for the first time since 2012.
Following the success of his 2006 album 'Night Ripper', Girl Talk steadily toured over the following six years, bringing his renowned confetti-covered and sweat-soaked performances to venues ranging from house party basements to major festivals.
He followed it up with 'Feed the Animals', which was ranked number four on Time's Top 10 Albums of 2008. Next came 'All Day' in 2010, which was brought to life as an album-length music video called 'Girl Walk//All Day'.
In 2013, Gillis decided to take his first significant hiatus from the road since his initial national exposure. The break from live material preparation allowed Gillis time to explore some ideas slightly removed from his trademark hyper-mashup style. In turn, he began working on beats with a wider range of samples, some more obscure than what he would normally use in his Top 40-focused work. He teamed up with legendary Philadelphia rapper Freeway on the collaborative EP, "Broken Ankles." The 2014 release combined both artists' distinct, high-energy styles into a continuously flowing collection of bangers.
---
MGMT
When: Sunday
Formed in 2002, MGMT released their breakthrough, influential and Grammy winning debut album 'Oracular Spectacular' in 2007, with tracks 'Electric Feel' and 'Kids' becoming global hits. They followed this up with 2010's 'Congratulations' and 2013's self-titled 'MGMT'. Earlier this year they released their highly anticipated new album 'Little Dark Age', produced by the band in collaboration with Patrick Wimberly (Chairlift, Kelela, Blood Orange), and Dave Fridmann (Flaming Lips, Spoon, Tame Impala). The album has already received critical acclaim, with The Guardian perfectly describing the record as "a deliciously odd return to form", and NME praising the release with "MGMT have thrown open the doors and welcomed you back into their world".
MGMT are about to hit the road again and will perform at a bunch of festivals across Canada, USA, Europe and the UK before heading south to play Splendour in the Grass this July!
---
Kendrick Lamar
When: Sunday
Kendrick Lamar is one of the most critically acclaimed and successful rappers of our time. His every new release jolts culture in a new direction, ever so slightly, and has so since his second studio album Good Kid, M.A.A.D City, released in 2012. His reach has been monumental, with over 13 billion Spotify streams, 12 Grammy awards, and over 6 million albums sold worldwide.
His fourth album DAMN. is another triumph, with a debut at #1 on the Billboard 200 – marking his third time at the top spot – and earning him five Grammys from seven nominations. Lead single 'Humble' took out the coveted #1 spot in triple j's Hottest 100 of 2017.
In a short but illustrious career, Lamar has made an incredible mark on the music world and is certainly an act not to miss at Splendour In The Grass 2018.