This coming Saturday, you join us in paradise at the stunning Centennial Parklands with an all-star line-up showcasing the very best of electronic music.
With over 18 International DJs across four huge arenas, get ready for a glorious global invasion of the cream of the crop. On headlining duties is one of the UK's hottest electronic music acts of recent years, the multi-platinum selling DJ / Production powerhouse SIGMA, complete with LIVE vocalists, who will be closing out the main stage with a huge production.
Set Times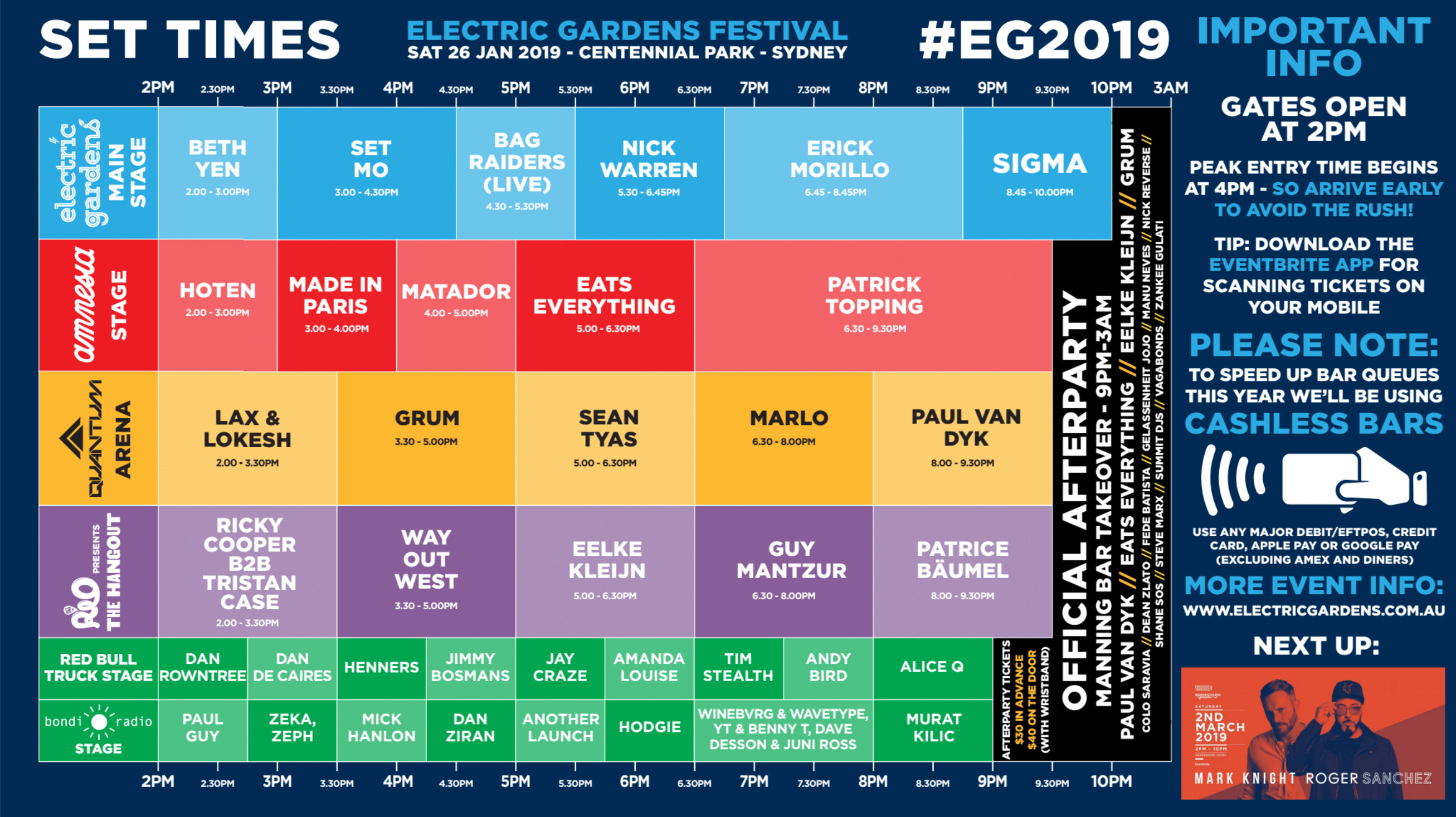 Festival Map
Important Festival Info
The fun is just around the corner but we have some important information to share with you.
If you have not already received your tickets via email, log in to your Eventbrite account using the email address used for the purchase. You can either print out the PDF ticket and bring it with you, or show the ticket on your smartphone for scanning. Download your tickets in advance, before you get to the entry gates, to avoid any issues with the mobile network being too busy on event day.
TIP: The easiest way to keep your ticket safe is through the Eventbrite app. Simply login with the same email address and the tickets will be available in the app!
Name changes are no longer necessary; we just need to scan your ticket so have it printed out or downloaded to your phone.
Bring PHOTO ID!
Get there early! Gates open at 2pm and peak entry time begins at 4pm – so  come early to avoid the rush.
This year to speed up bar queues, we'll be using CASHLESS BARS. Use any major debit/eftpos, credit card, Apple Pay or Google Pay (Excluding AMEX and Diners)
Public Transport is the best way to arrive at Electric Gardens.
All Pedestrian Gates are open at all times in Centennial Park.
A dedicated drop off area will be set up for Taxis and other drop off vehicles. No pick-ups via private vehicle, taxis, or Uber will be available after the event, please catch the free shuttle bus to Bondi Junction.
There is no parking available in Centennial Parklands on Event Day and we recommend leaving the car at home. The closest parking station is at the Entertainment Quarter in Moore Park, but be advised this may be at capacity.
There are FREE shuttle buses after the event to Bondi Junction.
Additional Event Info and FAQs can be found on our website: www.electricgardens.com.au/faqs/
www.electricgardens.com.au/event-info-sydney/
Tickets are now 95% SOLD OUT, so if you wish to join us, now is the time to purchase or you may miss the festival of the Summer!
OVER 95% SOLD OUT!
FINAL CALL FOR TICKETS! – PURCHASE TICKETS HERE
Electric Gardens Afterparty
Electric Gardens Festival will be continuing into the night with a full venue takeover of the Manning Bar until 3am!
With many headliners from the festival – including Paul van Dyk, Eats Everything, Eelke Kleijn and Grum plus a surprise or two, as well as a selection of the finest local DJs, this will be an unforgettable event to round off your Electric Gardens experience.
TICKETS:
Electric Gardens ticket holders:
Pre-purchase your Afterparty ticket for just $30 each, online only!
Non-ticket holders:
Pre-purchase your Afterparty ticket for $60 each
On the Door: $40 (with EG wristband) / $70 (no wristband)
DETAILS
Manning Bar, University Of Sydney – Sat 26 Jan 2018 – 9pm – 3am
PLEASE NOTE:
Wristbands will be checked on entry – if you are not wearing an Electric Gardens wristband, you will be charged the additional door price.
With No Lockouts at Manning Bar, 3am Close, plus an Open-Air Courtyard, this is one Afterparty you do not want to miss!