Just a few weeks out from his SS19 national tour, Australian producer, drummer and beatmaker Kilter has announced a huge lineup of support acts and special guests for his upcoming shows around Australia. And to celebrate, Kilter has teamed up with one of those acts, Western Sydney hip hop prodigy Lil Spacely, for a club-ready jam 'C.A.C (Catch A Case)'. Nestled away in the studio for the past few weeks, the pair has brought both their worlds together for a bouncy, hip hop, party record, to be released via etcetc on November 8th.
"This one is actually a few years coming as I first reached out to work with Space back in 2015," explains Kilter. "Four years later we finally got in the studio and wrote this thumper! Sitting somewhere between dancehall, rap and techno it's a banger for warm evenings cruising around with the windows down."
Lil Spacely adds, "C.A.C. is a vibe hey. It was awesome working on the track with Ned (Kilter). We didn't really have too much direction when we started, but just laced the song together in a studio in Marrickville a few months ago and had the song laid down pretty quick. We added a couple of things like the whip crack on the second verse and referenced Doritos because my manager was eating a bag of Doritos when he dropped into the studio that night haha. It's meant to be a fun track at the end of the day. I'm excited to be a part of the upcoming shows!"
Lil Spacely will join Kilter at his not-to-be-missed hometown show at Sydney's Oxford Art Factory on November 7th, alongside Muki, who features on Kilter's most recent single 'No Time', with Luboku and Self Tape on warm up duties.  etcetc will be taking over OAF's Gallery Bar for a full DANCEetc party on the night, featuring some of the label's finest including BRUX, Donatachi and George Michelle.
DVNA and Reynier (Jordan Burns' side project) will be joining Kilter's Brisbane gig on November 8th, with Luboku and Lean Quatifah joining the party in Melbourne on November 22nd. triple j Unearthed High finalist MALi JO$E and BEXX will be getting things started at Kilter's Perth show on November 23rd, with local legend Tigerilla joining the party in Adelaide on November 30th.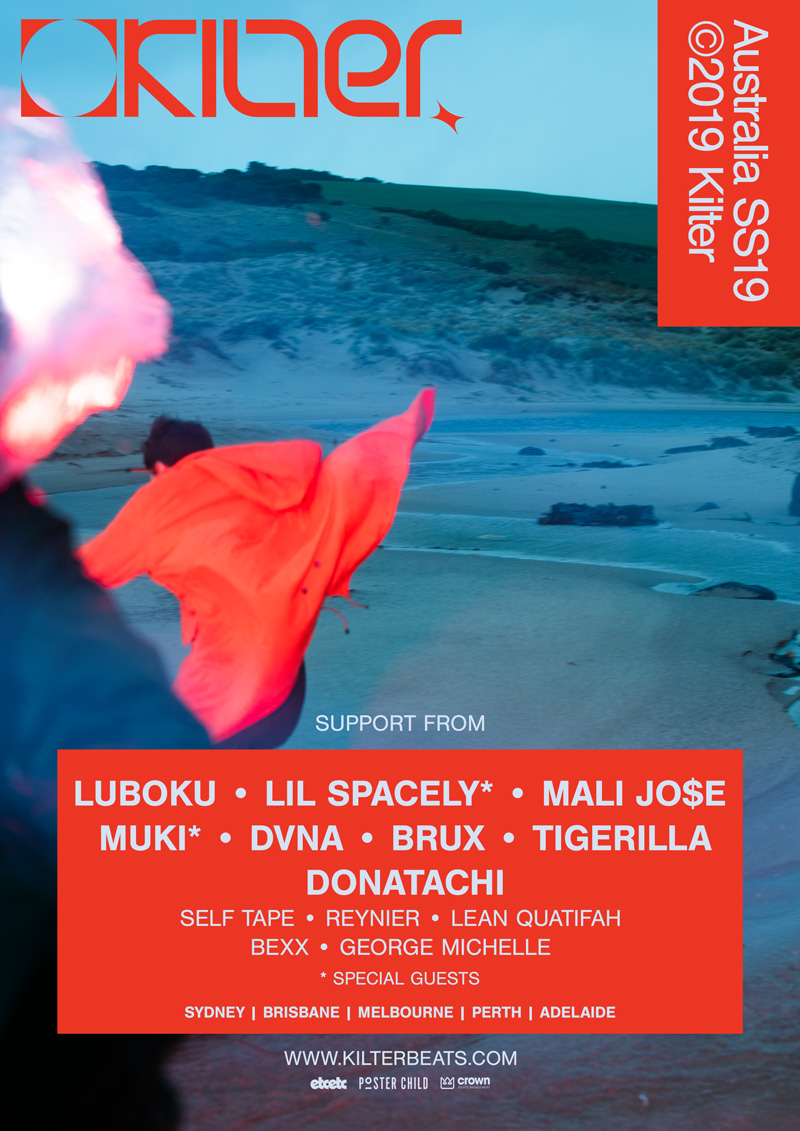 Follow Kilter