Prepare to be swept into the rhythmic embrace of electronic music titans, The Chemical Brothers, as they announce their triumphant return to Australia for a series of electrifying performances.
Distinguished as British music luminaries, the dynamic duo of beats, Tom Rowlands and Ed Simons, are set to grace the East Coast with their pulsating soundscape. This remarkable journey will encompass three colossal shows in February and March, promising fans an unforgettable experience.
The upcoming tour aligns seamlessly with the impending release of The Chemical Brothers' highly anticipated tenth studio album, "For That Beautiful Feeling." Scheduled to reverberate through our ear canals on September 8, this album is poised to captivate audiences with its entrancing melodies and innovative beats.
A testimony to their musical prowess, "For That Beautiful Feeling" follows in the footsteps of their acclaimed album "No Geography," which earned the title of the second-best album of 2019. The new album features captivating tracks such as the stellar lead single 'No Reason,' 'Live Again,' and the recent collaboration with Beck on 'Skipping Like A Stone.'
Be prepared to embark on a sonic journey that traverses new compositions and cherished classics. The Chemical Brothers will seamlessly intertwine their latest offerings with iconic hits such as 'Block Rockin' Beats,' 'Hey Boy Hey Girl,' 'Galvanize,' 'Go,' 'Setting Sun,' 'Star Guitar,' and 'Let Forever Be,' ensuring an electrifying spectacle for all attendees.
With a legacy spanning decades, The Chemical Brothers are renowned for crafting monumental live experiences. This tour marks their return to Australian shores after a hiatus since 2019, promising a resurgence of unforgettable sensations and auditory marvels.
Accompanying The Chemical Brothers are a roster of exceptional guest "superstar DJs" who will elevate the musical voyage to new heights.
Be prepared to secure your passage into this unparalleled experience:
Tickets On Sale: September 8, 1 pm AEST
Frontier Members Pre-sale: Commences on September
Mark these dates and join us for an extraordinary convergence of music, innovation, and performance. For detailed information and tickets, visit Frontier Touring.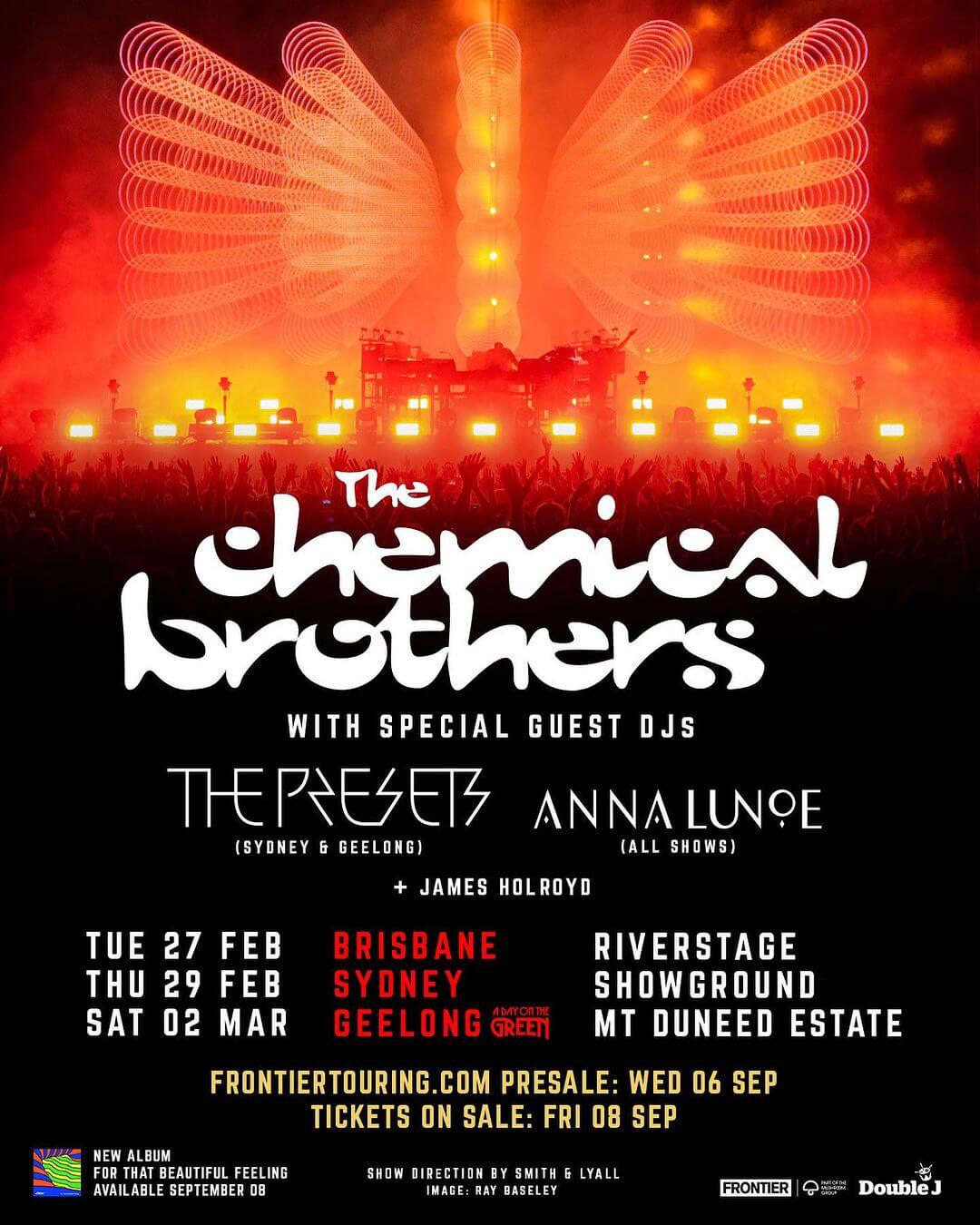 Tour Dates
Tuesday 27 February: Riverstage: Turrbal Jagera Land, Brisbane Special guest DJs: Anna Lunoe and James Holroyd
Thursday 29 February: Sydney Showground: Gadigal Land, Sydney Special guest DJs: The Presets, Anna Lunoe and James Holroyd
Saturday 2 March: A Day On The Green – Mt Duneed Estate: Wadawurrung Land, Geelong Special guest DJs: The Presets, Anna Lunoe and James Holroyd